Tips On How To Childproof Your Kitchen (and Home!)
Childproofing your kitchen is important at any stage of your life. Whether you have a baby on the way, already have your own small children or preparing for your status as grandparents – it is always a good idea to have some measures in place to minimise possible hazards and risks to keep the kids in your life, safe in your kitchen.
If you are thinking of renovating and designing a new kitchen or wanting to add extra safety measures to your current kitchen, this blog post has you covered! We have also pointed out a few points to consider down the track if you decide to make something permanent (at least for the next decade or so).
Here are some factors you could consider if you plan on renovating your kitchen in its entirety.
1. Round the edges
Sharp edges on your benchtop may be dangerous for the little ones running around in your kitchen. Opt for rounded edges that can help minimise any bumps and bruises that may occur as they grow up.
2. Hygienic options for benchtops
Kitchens can get messy, so it is a good idea to select a benchtop that has properties of stain, scratch, temperature resistance, as well as easy maintenance. Though it may be a little bit pricier than what you were thinking of, it will be worth it when one of your family members goes through a cooking phase. Kitchens are also the heart of the home, a place for your kids to do their homework or for you to enjoy a coffee whilst reading the daily paper. Ensuring a hygienic option for your most used surface in your home is a great investment for the years to come. Brands such as Dekton, offer ultra-compact surfaces that are ideal for these high traffic areas.
(Image Source: Claremont Gallery)
3. Kid-friendly storage
Installing cabinets low enough for small children to use is a great way to instil life long habits. These include tidying up after themselves and ensuring that they can access their things without having to stand on unsecured furniture and risk falling over when they want to grab their things.
4. Lowered countertop heights
This may seem like a good idea when you are expecting, as you may want to try childproof as much as you can to protect your little ones, however, if you decide to lower a section of your countertop, you will have to consider that when your children are 10-15 years of age, would that still be a good idea? Do you come from a family of tall people? Will it be too low for your liking when you go to use your kitchen in a decade's time? Ensure you think about these factors before you approve of the designs.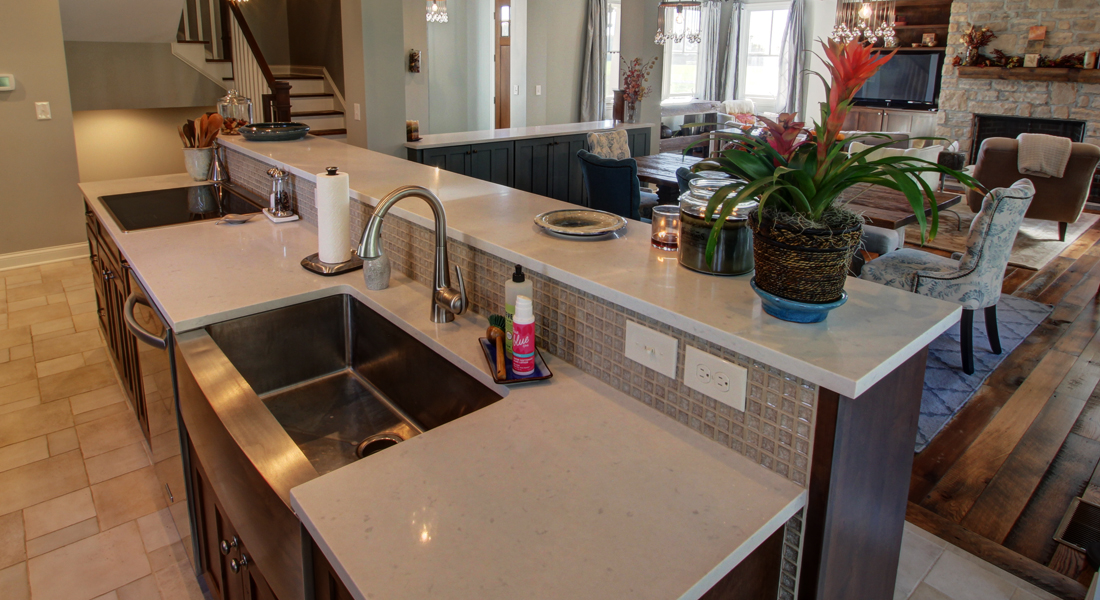 (Image Source: Richard Taylor Architects)
Not interested in renovating your kitchen or just wanting some tips on childproofing your current kitchen? These tips are for you. Mix and match with the list above to ensure your home has all the childproofing you require.
5. Lock cabinets/drawers
"A locked cabinet is a safe cabinet". Installing locks on cabinetry and drawers that contain dangerous or sharp objects will ensure that small children cannot access them. This childproofing tip can be a simple DIY project if you know your way around some tools. There are many tutorials on how to do this online if you are interested in completing this yourself. Child safety locks are useful when the baby is under the age of 2 years old, but after that, they may be able to open it up.
6. Baby gate the kitchen
Installing a baby gate for your kitchen ensures that small children and babies will not be crawling around when you are using sharp knives or getting distracted whilst cooking. Baby gates can be used anywhere (not just your kitchen) and can be used to keep your child out (or in) certain areas. Another great place to have them is at the top of your stairs.
(Image Source: Baby Gate Guru)
7. Switch out the toxic cleaner
We all know kids somehow get their hands on anything and everything. Even your pets are guilty of this, so it is important to ensure any toxic cleaners are way out of reach of your little ones or switch them to non-toxic cleaners. Of course, you will need to keep these out of reach, but in the scenario, it ends up in their hands, it may not be AS hazardous as it potentially could be. Check out this post by Nutrition by Nazima on the beginner's guide to switching to non-toxic cleaning products.
8. Keep dangerous items out of reach
This brings me to the next point, moving all dangerous items/objects out of easy to reach places. Yes, you may have taught your child what they can and cannot touch, but why not just remove the entire option? Ensure objects such as sharp knives, forks, small appliances are not within arm's reach. Not only that, once you are done with your toaster, instead of just flicking the switch off at the PowerPoint, but you could also unplug it and roll up the cord to ensure it cannot be used and covering the outlet with a plastic cover.
9. Remove breakables from low shelves
Ensure that objects that sit on low shelves are not easily breakable or dangerous, for example, a vase. Removing these objects entirely will reduce the number of things small children can get their hands on.
10. Secure freestanding furniture
This is a great option to ensure furniture is secured, with no chance of falling on top of someone. Small children cannot anticipate consequences that could occur if they climb a shelf or chest of drawers to reach something sitting on top. Though it is crucial to teach them this at a young age, it is also equally important to minimise any hazards and risks if they were to climb it anyway. Climbable furniture includes bookshelves, dressers, shelves – even leaning mirrors should be secured where possible. Though they may not be able to climb a mirror, it could easily be knocked over if someone is not careful.
(Image Source: Consumer Reports)
If you are after a new kitchen, bathroom or custom cabinetry, don't hesitate to contact one of our talented designers here at Character Cabinets on 9234 3000 or send through an email with your plans to sales@charactergroup.com.au and we can help turn your dream home into a reality!